Growing up on Florida's East coast, Captain Derrick Herborn developed a passion for fishing at an early age. Spending most of his childhood around boats, it was no surprise when he started making his living on one.
It all started when he took a job in South Florida's yachting industry at the age of 18. Herborn started out as a deck hand and by age 25 he had obtained his 100 Ton Master Captain's License. He has run private yachts up the East Coast and throughout Bahamian waters. Currently residing in Jensen Beach, Herborn spends every waking moment on the Indian River perfecting his craft.
"I have always had a great deal of respect for our oceans and intracoastal waterways. I encourage catch and release practices for many species. When we do fill the cooler, I am always in accordance with State and Federal regulations for size and bag limits. It would be my absolute pleasure to give you the best experience possible on the water. I strive to cater to the needs and wants of every charter guest."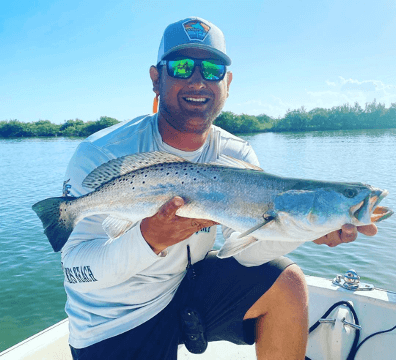 The Snook Nook is a 2002, 23' Parker Big Bay. This boat has served as the Snook Nook Charter boat since its North Carolina construction.
With a 10'' draft, 8.5' beam and endless room to fish, this boat is ideal for the Treasure Coast. So, after thousands of hours on the water and countless fish, it was time for some upgrades.
In June of 2020, the Parker was sent over to Two Rivers Boat Works in Stuart. The Big Bay is now repowered with a new 250HP Mercury ProXS and a new 8' Power Pole Blade. A complete rewire was done along with a new fuel line, Helm, Mercury Gauges, Compass, Batteries, Switches, Stereo and a new Humminbird Helix 10 Fish Finder. Native Sons Yacht Care brought the hull back to life and after a fresh coat of wax, Fisheye Graphics took care of the cosmetics.
Equipped with New Crowder Rods and Penn Reels, rest assured you will be fishing some of the finest tackle available! Call or visit our website to book a trip today!